Three Ways to Disappear
By Katy Yocom,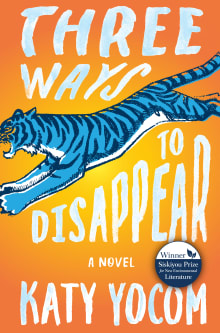 Recommended by Midge Raymond
From Midge's list on the best books about saving animals.
Katy Yocom's Three Ways to Disappear won the Siskiyou Prize for New Environmental Literature and was named a Barnes & Noble Top Indie Favorite—well-deserved recognition for this gorgeous debut novel. Three Ways to Disappear reveals the plight of the endangered Bengal tigers through the stories of two sisters who come together years after a family tragedy changes their lives—journalist Sarah, in India to help preserve the tigers, and Quinn, in Kentucky, dealing with family issues. The novel shows the complicated balance of tiger conservation among humans who themselves are struggling, and portrays the complexities of family bonds as well as the immense challenges facing the natural world. Both the human and tiger characters are beautifully rendered, empathetic, and unforgettable.

---