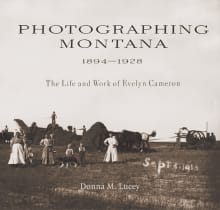 Photographing Montana 1894-1928: The Life and Work of Evelyn Cameron
By Donna M. Lucey
Why this book?
The story behind this book is nearly as fascinating as the book itself. Evelyn Cameron—Lady Cameron!—accompanied her ne'er do well husband to Montana with a scheme to raise thoroughbreds. When that failed, her husband fell into despair and it was up to Evelyn to put food on the table. She did that by photographing what she saw around her: everything from staged and romanticized "Western photos" that she sold to magazines back East, to interiors of dreary homestead claim shacks. Her glass plate negatives were converted to greenhouses after her passing but were thankfully discovered and restored, resulting in this…
From the list:
The best books on Montana during WWI
When you buy a book we may earn a small commission.