Always Crashing in the Same Car
By Matthew Specktor,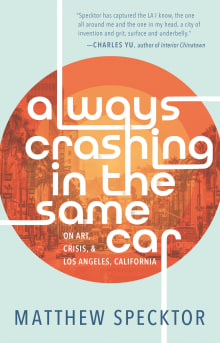 Recommended by Tom Bissell
From Tom's list on trying to understand your parents.
This is a memoir about being a writer—and failing. With scholarly rigor and tenderhearted sympathy, Specktor excavates the lives of artists forgotten (Carol Eastman, Eleanor Perry), underappreciated (Thomas McGuane, Hal Ashby), and notorious (Warren Zevon, Michael Cimino), while always circling back to his own benighted Hollywood upbringing, complete with a lovely tribute to his mother, a failed screenwriter. This is an angry, sad, but always somehow joyful book about not hitting it big, and I've never read anything quite like it.

---