Life and death in Spitalfields, 1700-1850
By Margaret Cox,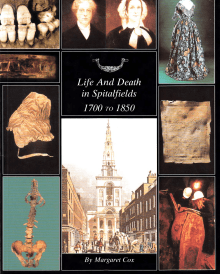 Recommended by Lindsay Allason-Jones
From Lindsay's list on how people in different periods or cultures lived their lives.
Excavations in the Crypt of Christ Church, Spitalfields, London in 1984-9 uncovered 1000 skeletons, of which 387 were in coffins with inscribed plates giving the names and ages of the deceased. A mixed team of specialists were able to analyse the bodies and follow up the documentary evidence to reveal extraordinary details of life, dentistry and funerary practices between 1729 and 1859 in this historically rich part of London.

---