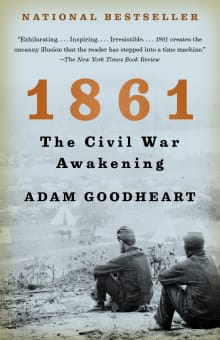 Recommended by Fergus M. Bordewich
From Fergus' list on the American Civil War from a popular historian.
The outbreak of the Civil War was not a single event as simple as the firing on Fort Sumter or reducible to a clear clash of ideologies. In this erudite yet intensely readable book, Goodheart captures with equal brio the grand sweep of events and the maneuvering of political men South and North, and – most compellingly of all – the dawning of the war in the lives of men and women both famous and unknown, from New England Transcendentalists, to the fiery abolitionist orator Abbey Kelley, to the wily lawyer-turned-soldier Benjamin Butler, whose clever legal maneuver early in the war opened to door to the northward hemorrhaging of tens of thousands of black slaves.

---