Confederates in the Attic
By Tony Horwitz,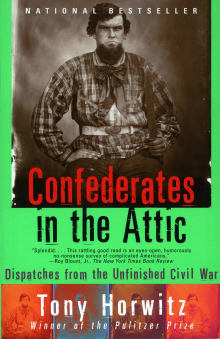 Recommended by Nina Silber
From Nina's list on the ongoing legacy of the American Civil War.
I've used this book countless times in the classroom and it always prompts a probing discussion. The late journalist Tony Horwitz takes his readers with him on his travels, mostly through the South and mainly to locations where the Civil War seems to be a pressing, present-day concern. We meet Civil War re-enactors, members and sponsors of the Lost Cause-themed "Children of the Confederacy", Civil Rights activists, school teachers, and tourists, all of whom share with Horwitz their perspectives on what the War means to them. Although Horwitz wrote this account in the 1990s, much of it feels like a foreshadowing of the conflicts we live with today.
---