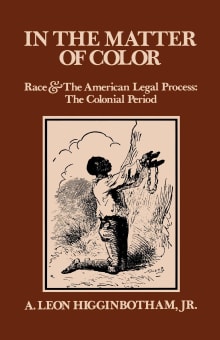 In the Matter of Color: Race and the American Legal Process 1: The Colonial Period
By A. Leon Higginbotham
Why this book?
We may think we know about colonial America. Higginbotham reveals that we are just beginning to learn about this geographical space and this period of history. Higginbotham shows another 'America,' still dominated by the laws of European countries such as Britain, France, the Dutch Republics, and Spain. This is an America that may be unfamiliar to us and it is a place where Africans could still negotiate their status in the courts of law. This book offers a very detailed exploration of a fascinating moment in American history. And shows us what the founding of the United States of America…
From the list:
The best history books about everyone and for everyone
When you buy a book we may earn a small commission.