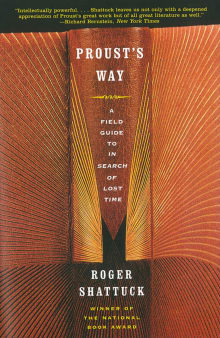 Proust's Way: A Field Guide to in Search of Lost Time
By Roger Shattuck
Why this book?
"Like the Bible, In Search of Lost Time embodies its own sources, myths, and criticism. Like an archaeological site, the novel has come to stand for a state of civilization." Roger Shattuck is masterful in reach and insight; his "field guide" is aptly named. The reader journeys alongside him to traverse the vast and incomparable terrain of a seven-volume novel. Full of wit and provocation, he leads us through thick and thin, and best of all, he allows our own reading of the great work to revive within us, illuminating the very experience of reading that Proust so brilliantly mined.
From the list:
The best books to expand your grasp of Marcel Proust
When you buy a book we may earn a small commission.