I Am Peace
By Susan Verde, Peter H. Reynolds (illustrator),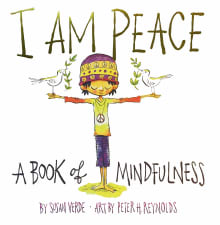 Recommended by Deborah Sosin
From Deborah's list on mindfulness and silence.
I Am Peace is part of a wonderful series by this well-known team. The series explores topics such as compassion, empathy, resilience, and what it is to be a feeling human being. I Am Peace is about a child (gender not identified) who worries about the past and future and learns how to comfort and ground themselves by noticing the here and now, breathing evenly, and practicing kindness toward themselves and others. The simple, sparse text expresses these rather deep ideas in ways that all children can understand: "I can watch my worries gently pop and disappear. I let things go"; "I can hug a tree and thank it for its beauty and strength." The back matter features a discussion of mindfulness and a guided meditation.
---