The Complete Tightwad Gazette
By Amy Dacyczyn,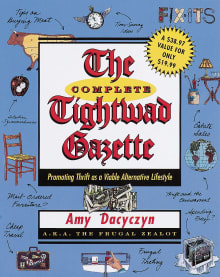 Recommended by Emrys Westacott
From Emrys' list on simple living and the good life.
This is an entirely different kind of book to those listed above. From 1990 to 1996 Amy Dacyczyn, a self-styled "frugal zealot," put out a monthly newsletter, The Tightwad Gazette. It contained all sorts of tips, tricks, strategies, and advice on how to pinch pennies. This book brings all her articles together in a single volume. For anyone committed to living simply–which usually means living cheaply–it is a goldmine. True, not all her recommendations met with my family's approval: mixing real maple syrup 50-50 with fake maple syrup received multiple thumbs down. But browsing through it is great fun, and on almost any page you'll find a salutary reminder of how you could be more frugal. And as we all know, frugality is associated with wisdom and with happiness.

---