Mornings on Horseback
By David McCullough,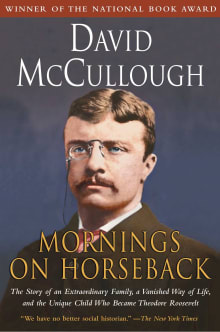 Recommended by Vladimir Alexandrov
From Vladimir's list on the best biographies that show how grit transforms people's lives.
It's inspiring to read how a sickly boy became the larger-than-life figure who dominated turn of the century America. Although born into a famous and wealthy family, the young Theodore's future seemed hopeless because of his repeated bouts with an illness that almost killed him. But through his own will, and with the inspiration and support of his remarkable family, he managed to overcome his ailment and grow into robust and productive manhood. McCullough's discovery of a rich cache of family letters allowed him to create a fine-grained and moving narrative about how this exceptional man came to be.

---