Nerdycorn
By Andrew Root, Erin Kraan (illustrator),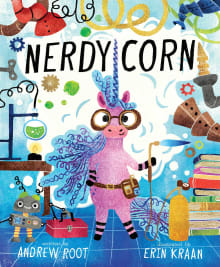 Recommended by Jess Hernandez
From Jess' list on unusual unicorns.
Fern the unicorn likes fixing and inventing more than prancing and dancing, a fact that gets her teased. When things fall apart at the party, her friends learn to see the value in her gifts. But will she want to help them after they call her names? 
I love this book because it pushes back on the idea that feminine can't mean smart. Even better, it honors Fern's reaction to the bullying rather than pushing the normal narrative of easy forgiveness. I admire its emotional honesty.
---