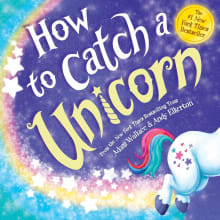 How to Catch a Unicorn
By Adam Wallace
Why this book?
I love this book because it's about kids who want to try and catch a unicorn. They set up all kinds of traps to trap the magical creature. Of course, the unicorn is way too clever and is determined not to be caught. The kids use everything imaginable to lure the unicorn: ice cream, glitter, and lemonade. It's also a very sweet rhyming book, which is hard to do. Better luck next time!
From the list:
The best books on unicorn in the uni-verse
When you buy a book we may earn a small commission.