You Don't Want a Unicorn!
By Ame Dyckman, Liz Climo (illustrator),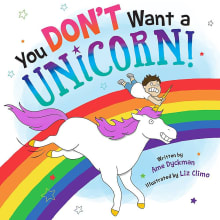 Why this book?
An unsuspecting little boy wishes for a unicorn, only to discover that magical pet ownership isn't all it's cracked up to be. Unicorns leave holes in the ceiling and piles of (cupcake) poo on the floor. And don't even mention the shedding! Both Ame Dyckman and Liz Climo are hilarious on their own, but as an author/illustrator team, they're an absolute hoot!
---