Today I Found a Unicorn
By Jack Lewis, Tanya Glebova (illustrator),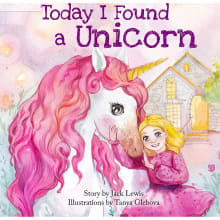 Why this book?
This is a heartwarming story about a special friendship that developed between a little girl and the beautiful unicorn who came to visit her. They shared a wonderful day together playing hide-and-seek and enjoying a picnic lunch on a gorgeous summer day. My granddaughter's love of unicorns along with the colours pink and purple make this book an excellent choice for her, I am sure plenty of children will love it too!  
---