The Runaway Bunny
By Margaret Wise Brown, Clement Hurd (illustrator),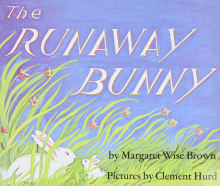 Recommended by Gail Reichlin
From Gail's list on motivate kids to manage their own behaviors and feelings.
As a veteran preschool teacher, parent and grandparent, I have found this amazing rhythmic tale of hide and seek to skillfully convey to toddlers and preschoolers, the unconditional love a mother has for her child. Young children do understand and embrace this book's age-appropriate loving, reassuring words and pictures: "If you run away, I will run after you. For you are my little bunny." The lesson learned...They, too, can count on their steadfast mother to always have their back, no matter how they choose to test their relationship. This is a fabulous example of how a picture book can effectively communicate words and actions while serving to initiate more discussion with the child regarding his own behavior and feelings.
---