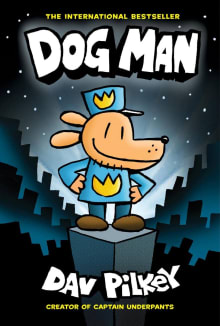 Recommended by Mary Shaw
From Mary's list on I wish I could have read to my children.
My son got my grandson a box of the first three Dog Man books for his birthday. A dog's head on a human body working as a policeman. My grandson was furious at the time. He did not want sucky books. When the party was over and the birthday boy was in bed over tired and grumpy, grandpa took out the offending books and start to read aloud. They are so silly, bad spelling but funny, funny to a 6-year-old boy. I actually found it hilarious too. My grandson laughed his head off. And that is why I recommend these books.  Children need to laugh. These books make a lot of kids laugh.  
---