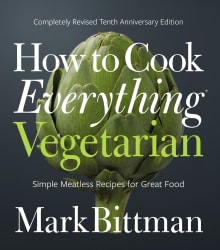 How to Cook Everything Vegetarian
By Mark Bittman
Why this book?
This cookbook by Mark Bittman re-energized the vegetarian movement over a decade ago (and was updated on its 10th anniversary). Think of it as the "Joy of Cooking" for vegetarians, covering all foods and techniques from A-Z. The recipes are straightforwad and approachable, making them perfect for beginner cooks as well as experienced home cooks. Favorites are Vegetarian Pho, Paella with Tomatoes and Eggs, and Curried Potatoes.

From the list:
The best vegetarian cookbooks for easy and delicious meals
When you buy a book we may earn a small commission.