At the Yeoman's House
By Ronald Blythe,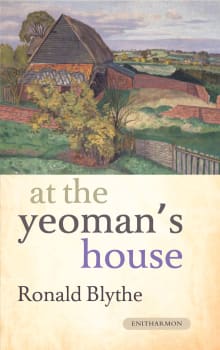 Recommended by Chris Naunton
From Chris' list on history, archaeology, people, and places.
This book is about a historic house in rural Suffolk in the East of England, which the author inherited from the artist John Nash. Blythe has himself made a career of writing about various aspects of the local landscape and how it, and the ways in which people have made their lives in the English countryside, have changed. The yeoman's house itself, 'Bottengoms', was built in the 16th century, adapted, fell into ruin, and was then restored, and continues to be maintained to this day. It incorporates a garden and is set into the archetypally English countryside of Suffolk. Blythe's gentle prose conveys a sense of sadness at the old ways of the traditional agricultural economy that have been lost, but in maintaining his beautiful house and sharing its story he is helping to keep some aspect of those ways, and that landscape, alive.

---