Fields of Glory: A Novel Fields of Glory
By Jean Rouaud,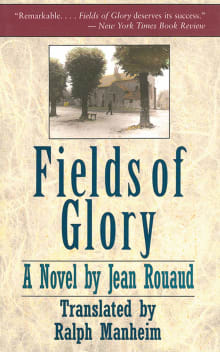 Why this book?
This is the first book of a fictionalized family history, starting with the omniscient narrator's maternal grandparents and paternal aunt, who are all born in the late 1880s: the World War I generation. The story takes place near Nantes, which until 1956 was part of Brittany, but then was administratively moved to a new department, the Loire Atlantic—though most people in Nantes and Brittany continue to believe the Nantois are Breton. As with many things French, the issue is far from settled.
Rouaud creates character through vignettes—and they're wonderful: grandpa smoking; grandpa driving; grandma complaining about grandpa smoking and driving; their car—the infamous, uncomfortable, 2CV, deux chevaux—in the rain, the wind, on hills, having to wipe the windshield by hand to see, clearing grandma's side, not grandpa's, whose vision is blocked by pouring rain, streaking mud, and cigarette smoke. The rain leaks through the windows, the vents, and canvas roof. Rain, "life's companion… the ennui of interminable drizzle," creates the sadness of personality. My favorite vignette is the day grandpa disappears from his daughter's house. Everyone, including the fire department is called to find him—he's 75 at the time. He returns, nonchalant, at the end of the day with a story about his visit to the exotic gardens in Hyères, with gorgeous descriptions of the plants and trees he has seen, touched, smelled (he's an amateur botanist). Grandma suspects a ruse, a mystery woman, someone with a slender ankle (unlike hers) and "a body conditioned by half-century of sea bathing (also unlike hers). She rifles through his pants pockets and finds a ticket stub to the Ile du Levant, a nudist paradise. No one says a word. A year later grandpa is dead. 
That's when we meet Aunt Marie, bird-like, austere, a severe believer. It's Brittany, the church, rain, and death are everywhere, one or more of them on every page, but it's not morose or depressing. It's hilarious. It's the unbelieving omniscient narrator living in the land of the very believing, seeing, hearing, commenting, laughing—at himself, his family, the church, death, and life; Aunt Marie has a saint for every day and every occurrence; Uncle Remi, a non-believer is the church organist; the deaths of the father, uncles, aunt, and grandparents, told in the most beautiful and surreal language.   
The final section of the book ties the family together, clarifying their history, relationships, and love: Marie, Joseph, Emile and Pierre, three brothers and a sister created, defined, and limited by the trenches of World War I. Emile and Joseph die there; Marie gives herself to God there. Pierre returns from there, marries Aline, and they have a son, another Joseph, who dies at age 40, one year after his wife Martha (the daughter of grandpa and grandma) dies in childbirth, leaving our omniscient author an orphan with a rich family history to discover and an ironic, absurd, iconoclastic voice to tell their story. I love this book. 
---