The Singing Line
By Alice Thomson,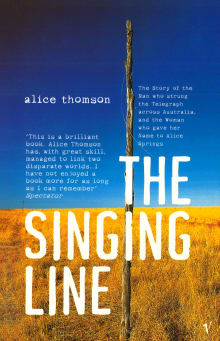 Recommended by Peter Grose
From Peter's list on the history of Australia.
This really is quite an extraordinary book, published on 1 January 1999. Alice Thomson is a British journalist who came to Australia to write a history of the overland telegraph line connecting Darwin to Adelaide. The line was built by her great-grandfather Charles Todd, a young English engineer. It is partly a touching love story, part a great historical narrative, and part a fascinating travel book. To do her research, Alice Thomson and her husband came to Australia and drove the length of the old telegraph line, picking up anecdotes and atmosphere along the way. As an aside, I mention that a seamless line of women in Alice Thomson's family have borne the name Alice. Alice Springs was named after Charles Todd's young wife Alice. The dry river that runs through Alice Springs is called the Todd River.

---