Quartet In Farewell Time
By Mary B. Durant,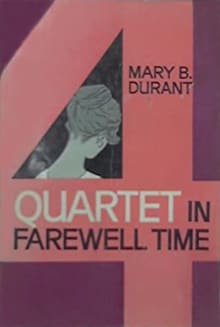 Why this book?
Mary Durant was my mother. This was her first novel, published in 1963. When I read it, the proverbial light bulb popped to life in my very young head: I recognized the real-life people and events upon whom the characters and plot were based, and because of that familiarity, saw the way my mother had changed things around, invented circumstances, conversations and fashioned composite characters to create a story. It was a behind-the-scenes crash course in the art of fiction-writing, the marvelous synthesis by which the novelist spins fact and invention into literature. And I understood that really good fiction, though technically a "made up" story, is always imbued with Truth with a capital "T," and that great writing and Truth are inextricably intertangled.
My mother was a first-rate writer and reader, and because of her, I was initiated into the quasi-secret bandwidth of real literature. The key: it's all in the writing, whether it's fiction or nonfiction. There are books I read over and over. Not because of the story; I already know the story. It's to experience the writing again. You don't listen to a great piece of music by, say, Bach or Mozart just once, do you? No. You listen over and over, to experience the genius. So it is with great writing.
---