Bad Luck and Trouble
By Lee Child,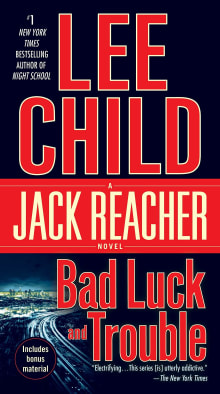 Recommended by Robin Yocum
From Robin's list on the baddest badass dudes of crime fiction.
Yeah, I know, naming Jack Reacher as one of the badasses of crime fiction is the equivalent of a six-inch putt. A gimme. Child has taken a totally implausible premise—a six-foot-five former Army MP wandering around the United States and finding trouble with nothing but an ATM card in his pocket—and created one of the best characters in suspense literature. When Reacher is on the hunt, the results are never in doubt, which is why we love him. He's the fullback coming through the line, time and time again, and no one can stop him. One reviewer of Child's books said that Reacher is never the underdog. That's a perfect description.

---