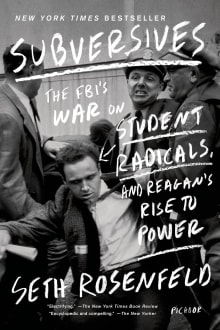 Subversives: The FBI's War on Student Radicals, and Reagan's Rise to Power
By Seth Rosenfeld
Why this book?
I'm a native and resident of the Northeast, but I lived for 10 years in San Francisco. During our time there, I was a little obsessed with the legacy of Mario Savio, the unassuming University of Cal-Berkeley student of the 1960s who helped lead the campus Free Speech Movement. His extemporaneous speech in protest of the school's collaboration with the "military-industrial complex" – "There is a time when the operation of the machine becomes so odious, makes you so sick at heart, that you can't take part!" – remains revolutionary. In Subversives (2012), investigative journalist Seth Rosenfeld tells a sweeping…
From the list:
The best books on protest movements
When you buy a book we may earn a small commission.