Here There Are Monsters
By Amelinda Bérubé,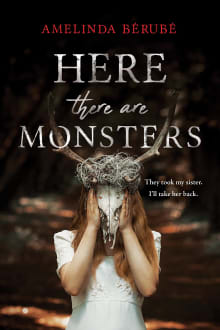 Why this book?
Here There Are Monsters is a hypnotizing read for anyone who's a sucker for complicated sister relationships and horror that pushes the envelope. Monsters presents a main character, Skye, whose relationship with younger sister Deirdre is tense, to say the least. Deirdre is fascinated with the swampy woodland that lies behind their house, and one day she disappears into the ominous wilderness. From there, it's up to Skye to decide exactly how far she'll go to save her sister.
Fair warning: anyone seeking a tale of cozy sisterhood should look elsewhere. Monsters is a horror book through and through; heartwarming it is not. But for anyone wanting a horror story that will stick with you for a long time, definitely pick up this surreal and shocking book.

---