Each Kindness
By Jacqueline Woodson, E.B. Lewis (illustrator),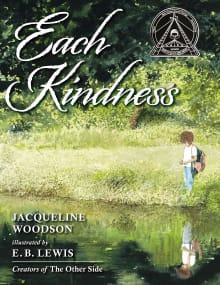 Recommended by Sarah Warren
From Sarah's list on the best picture books to read when you don't have the answers.
"Mommy, do I
have 
to sit by her?"
My kid can be a real jerk. He picks a genre of child and decides they're terrible. He's been horrified by the existence of girls, boys, toddlers, big kids, and human babies. It's straight-up bigotry, and it's not okay with me. I've preached and preached on sharing space and being nice. Each Kindness doesn't preach. We stand in the main character's shoes as she decides who deserves kindness and who doesn't. We feel the consequences.
---