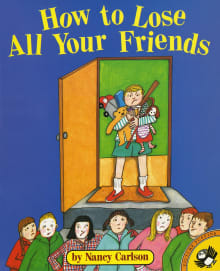 How to Lose All Your Friends
By Nancy Carlson
Why this book?
For ages 4-6, this silly parody of a How-To book gets a laugh from young elementary school children, while also helping them recognize the impact of various common but ungenerous behaviors. It offers backward "tips" such as: "Be a poor sport. When you play tag and someone tags you, lie and say they missed." Kids enjoy feeling smarter than the book. It ends on a warm note and also prompts children to share their ideas of how to be a good friend.
From the list:
The best books for kids about making friends and friendship issues
When you buy a book we may earn a small commission.