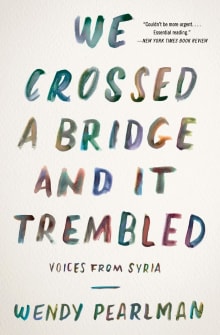 We Crossed a Bridge and It Trembled: Voices from Syria
By Wendy Pearlman
Why this book?
Pearlman expertly, delicately and lovingly assembles elements from the stories and journeys of close to 90 Syrians into a mosaic "mapped onto Syria's historical trajectory from authoritarianism to revolution, war, and exile" as she explains in the introduction. For me there are echoes of Maalouf's Origins in this book: More than a hundred years later and Syrians and Levantines are still having to flee their homelands because of tyranny, conflict and political and social upheaval. Pearlman is an accomplished professor at Northwestern University who speaks Arabic and has spent more than 20 years studying and living in the Middle East.…
From the list:
The best books on the people of the Levant region
When you buy a book we may earn a small commission.