Occupational Hazards
By Rory Stewart,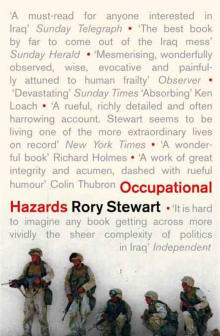 Recommended by Denis Dragovic
From Denis' list on the tragedy of war.
Occupational Hazards provides a glimpse into the challenges of rebuilding countries after war. In mid-2003 Rory Stewart joined the British government effort to rebuild Iraq. His time overlapped with my early days but regrettably, operating in different areas, our paths never crossed. While I was focusing on humanitarian assistance and community development, Rory was navigating the politics of Maysan province. Rory is an accomplished writer who turns the prosaic work of governance, such as ensuring local salaries are paid, into an exciting and insightful narrative of the mechanics of running an occupation. Luckily for the reader, Rory isn't the desk-bound type and as a result, we are taken to the streets of Amara, the reed houses of the Marsh Arabs, and the delicate negotiations between competing factions who are seemingly always only one step away from civil war.

---