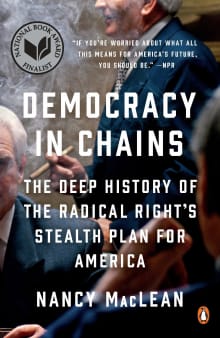 Democracy in Chains: The Deep History of the Radical Right's Stealth Plan for America
By Nancy MacLean
Why this book?
This is a brilliant book by a professor of history holding an endowed chair at Duke University, a scholar who took a year off from her academic duties to tour the country, giving talks about this book. It is the other book that has most affected me since the publication of my last book, After Capitalism. It's a very readable scholarly study, not explicitly focused on climate change, but which explains more compellingly than any other book I've read, as to why, given what we know about the causes of, and solutions to, climate change, we are not doing what…
From the list:
The best books that will change the way you look at climate change
When you buy a book we may earn a small commission.