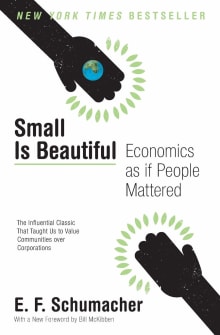 Small Is Beautiful: Economics as If People Mattered
By E.F. Schumacher
Why this book?
My rekindled interest in climate change took me back to a book that had influenced me significantly decades ago, which now seems more relevant than ever before—a fact attested to by the fact that the most recent edition features a new forward by Bill McKibben. Of course, Schumacher was not discussing climate change in 1973, but he was already calling attention to ethical, economic, and environmental issues associated with economic growth and thinking about solutions. This is a collection of articles by an economist whom John Maynard Keynes once suggested might be his worthy successor. It includes his provocative "Buddhist…
From the list:
The best books that will change the way you look at climate change
When you buy a book we may earn a small commission.