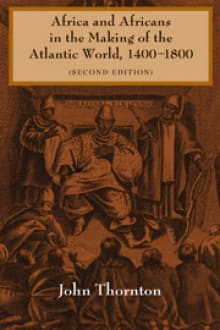 Africa and Africans in the Making of the Atlantic World, 1400-1800
By John Thornton
Why this book?
An invaluable scholarly source for understanding the Atlantic slave system at its source.  Among the book's virtues are details of the cultures and politics in the area of European penetration and African slavery itself and the African participation in the European trade. This book should be recognized with the extensive literature on the Atlantic slave trade for its acknowledgment of the great range of African languages and cultures that ended up in Brazil, the Caribbean, and North America.

From the list:
The best books on African slavery in the Americas
When you buy a book we may earn a small commission.