Young Men and the Sea
By Daniel Vickers, Vince Walsh,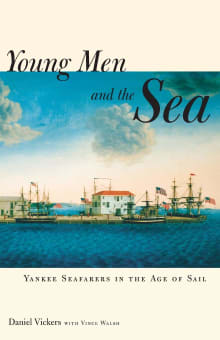 Recommended by Thomas M. Truxes
From Thomas' list on 18th century mariners.
The sea figured prominently in early American life.  Westward expansion is a dominant theme in American history, but as historian Daniel Vickers demonstrates, the horizon extended in all directions. For those who lived along the Atlantic coast, it was the East — and the Atlantic Ocean — that beckoned. In Young Men and the Sea, seafaring is a normal part of life. Drawing on the records of thousands of mariners sailing from Salem, Massachusetts, Vickers offers a fascinating social history of early American seafaring.  In what sort of families were sailors raised? When did they go to sea?  What were their chances of death? Whom did they marry, and how did their wives operate households in their absence? This book is destined to become a classic of American social history.

---