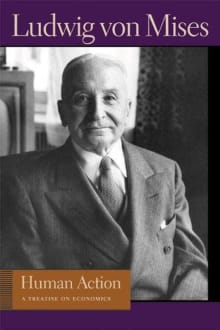 Human Action: A Treatise on Economics
By Ludwig von Mises,
Why this book?
This is the most rewarding book in economics—maybe in all of social science—if you're willing to be patient and attentive (no math, statistical equations, or even graphs, but this is not light reading). Human Action's treatment of economics is comprehensive, tackling questions from the philosophical—What, for example, is the nature of economic laws?—to the practical—What do those laws mean for, say, regulating the price of milk? A true tour de force, this book changed how I think about the world, and it might do the same for you. Just remember what I said about patience and attentiveness!

From the list: