Thirteen Days in September
By Lawrence Wright,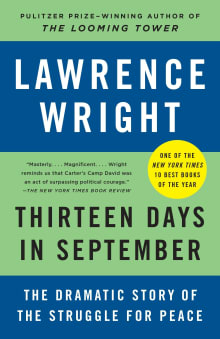 Recommended by Jonathan Alter
From Jonathan's list on the best books about the life, character, and presidency of Jimmy Carter.
The Camp David Accords brought enduring peace between Israel and Egypt after 25 years of war. Wright's taut narrative—later adapted as a play—conveys just how close the summit came to falling apart. Along with normalizing relations with China, obtaining ratification of the Panama Canal Treaties, and advancing a path-breaking human rights policy, Carter's triumph at Camp David suggests he was a better foreign policy president than many critics acknowledged at the time.

---