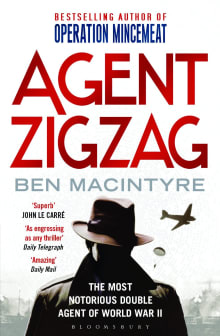 Agent Zigzag: A True Story of Nazi Espionage, Love, and Betrayal
By Ben Macintyre
Why this book?
Nowhere is the phrase "stranger than fiction" more appropriate than in describing Agent Zigzag. Charming British conman Eddie Chapman turned himself into one of the best double agents his country ever produced. But for whom was he really working? None of his handlers seemed to be sure. His squirming loyalties allowed him to keep a family and a mistress, to remain alive despite interrogation by both sides, and earn an Iron Cross from Germany's Abwehr and a pardon from MI5 for blowing up a British factory. I was astonished by this tale, and left wondering if Chapman, in the…
From the list:
The best books about the weirder side of World War II
When you buy a book we may earn a small commission.