The London Journal of General Raymond E. Lee 1940-1941
By James Leutze (editor),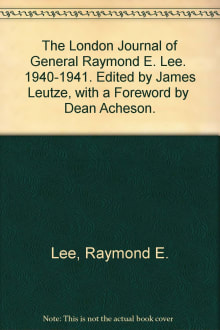 Recommended by Andrew Nagorski
From Andrew's list on the view from London in 1941.
Lee was the popular, well-connected military attaché in the U.S. Embassy in London. A staunch supporter of U.S. aid for Britain, he played an important role in preparing for America's entry into the war. During the Blitz, he castigated American correspondents who described London as "devastated" by the German bombing campaign. "London is not devastated, and if you want one soldier's opinion, it will not be devastated," he told them. His diary reflects his determination to counter the defeatist predictions of Joseph Kennedy, who had served as U.S. ambassador in London until 1940.
---