The Heat of the Day
By Elizabeth Bowen,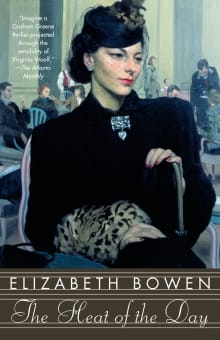 Book description
It is wartime London, and the carelessness of people with no future flows through the evening air. Stella discovers that her lover Robert is suspected of selling information to the enemy. Harrison, the British intelligence agent on his trail, wants to bargain, the price for his silence being Stella herself.…
Why read it?
3 authors picked The Heat of the Day as one of their favorite books. Why do they recommend it?
Judith Mackrell
Elizabeth Bowen's 1948 novel is one of the most gritty, uneasy, and compelling accounts I've read of the civilian experience of war. Set in London between 1942 and 1944 The Heat of the Day draws on Bowen's own experience as an air raid warden in evoking the daily life of a city that has been gutted by bombs, rationing, sleep deprivation, and fear. At the heart of the narrative is the story of Stella, her double agent lover, and the government spy who attempts to blackmail her; and through the strange fractured relationships between these characters, their moral confusion, Bowen…
Gerard Woodward
Beautifully evocative and atmospheric novel set in wartime London concerning a woman, Stella, whose lover is suspected of being a spy. She learns this from another man, Harrison, who offers to protect the lover (Robert) if she takes up with him instead. Thus Stella is pulled between conflicting ideas of love, sex, and politics. Parallel to this is the story of Louie, a flirty working-class girl who has a series of lovers while her husband is away in the army. Again this is a novel that looks at the human stories of love and loyalty which are thrown into turmoil…
Eliza Graham
The Blitz is over, but Stella lives in a London that is still at war. She moves from flat to flat and her professional life is bound by state secrecy. Her relationship with her lover isn't what it seems, either, and that seems a metaphor for life in wartime London (or perhaps it's the other way round). Little in the capital is constant or stable, in contrast with the country houses she retreats to. There's a tautness to this book that means I have returned to it several times.