A Question of Standing
By Rhodri Jeffreys-Jones,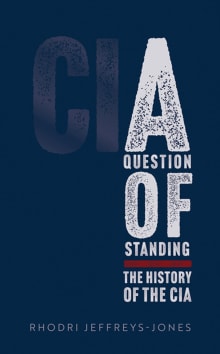 Book description
A Question of Standing deals with recognizable events that have shaped the history of the first 75 years of the CIA. Unsparing in its accounts of dirty tricks and their consequences, it values the agency's intelligence and analysis work to offer balanced judgements that avoid both celebration and condemnation of…
Why read it?
2 authors picked A Question of Standing as one of their favorite books. Why do they recommend it?
Yakov Ben-Haim
This is an interesting collection of essays on the history of the CIA.
A spy agency thrives on deceit and uncertainty, making plans and taking actions when the adversary also thrives on those same elements.
Arranged in chronological order, the essays cover nearly 20 different incidents, describing the challenges, uncertainties, goals, and decisions made by both high-level political decision-makers and practitioners in the field.
Topics covered include early stages in the development of the CIA (founded in 1947), including covert action against the Soviet Union in the 1950s, the Bay of Pigs (1961), the Iran-Contra affair (mid-1980s), up to more…
Hugh Wilford
There are several general histories of the CIA to choose from (including my own Great Courses video lectures) but this for my money is the best book available right now. Rhodri Jeffreys-Jones has been writing about the Agency for years, he's scholarly yet highly readable, and he plots just the right course between recognizing the CIA's successes and critiquing its errors. This book is concise but comprehensive, tracing the organization's origins in the decades before its founding in 1947, and coming all the way down to 2022. A great place to start.