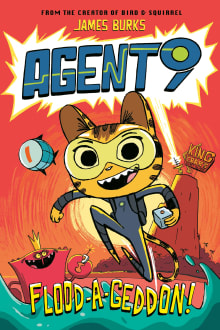 Recommended by Ken Lamug
From Ken's list on the best middle-grade graphic novels about unexpected superheroes.
In this fast-paced action-adventure, super-secret agent Agent 9 has to stop King Crab and his diabolical plans to melt the polar ice caps and build a massive water park. If that doesn't grab your attention, I have no doubt that James Burks' wonderful and dynamic illustrations will. There are chase scenes, explosions, and humor on every page that'll surely keep the reader hooked with every turn. I love how Agent 9 has to address her own personal struggles so she can level up and win the day. A very welcome addition to any children's graphic novel bookshelf.

---