The Terror Before Trafalgar: Nelson, Napoleon and the Secret War
By Tom Pocock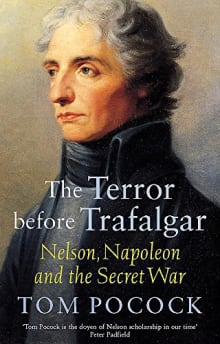 Why this book?
Tom Pocock, a Naval Correspondent for The Times and Defence Correspondent for the London Evening Standard, has been described as the foremost authority on Admiral Nelson. But going past Nelson, in this book, he delves deeply into the lesser-known people that helped Nelson – and Britain – win the Napoleonic Wars, mission by mission, battle by battle.
This book is an absolute treasure-trove of information for anyone interested in the more secret ways Britain fought the first half of the Napoleonic Wars. "This book tells, through contemporary letters, journals, and newspapers, the gripping story of the secret war and of the shadowy but fascinating figures who did their utmost to undermine French plans." This book inspired years of research – books and physical trips – that created The Tide Watchers. It brought the people of "the secret war" to life, American inventor Robert Fulton's life in France, and the dedicated but little-known British spies who did what they must to stop Napoleon walking in William the Conqueror's footsteps. Their stories inspired the characters of Duncan, Alec, Cal, and Lisbeth – and a woman whose name is lost to history, code-name "The Incomparable", and her regular partner in espionage, the real-life Scarlet Pimpernel.
---
When you buy a book we may earn a small commission.