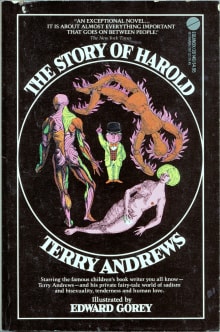 The Story of Harold
By Terry Andrews, Edward Gorey
Why this book?
Are you prepared to read a novel that might challenge your perspective on sexual practices generally considered perverse and perilous? The narrator of this touching fictional autobiography is Terry Andrews, a compassionate, witty, and wildly promiscuous children's book author and resident of pre-AIDS Greenwich Village. Unfortunately for him, he discovers that he is most drawn to what he cannot have – a family and kids. His attraction to down-and-out misfits and sadomasochism seems to rule that out until he falls in love with a married father of six. When that relationship comes undone, however, Terry slides into suicidal depression. Even…
From the list:
The best novels about outsiders and misfits
When you buy a book we may earn a small commission.