Miss Rumphius
By Barbara Cooney,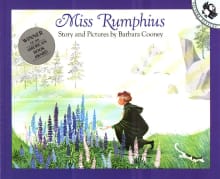 Recommended by Lisa Doseff
From Lisa's list on gardening to make a difference in the world.
I have absolutely loved this beautiful story since I first read it to my children nearly 40 years ago! As someone who also wanted to see the world and then settle down, like Alice in the story, I knew that I also "must do something to make the world more beautiful." And, like Alice, who finally figures out what that could be when she is an older woman, my epiphany came once my children were grown and gone. Sharing a love of nature with Miss Rumphius, I credit her with being part of the inspiration which spurs me on to restore natural habitat, giving me so much happiness along the way.
---