Somebody Loves You, Mr. Hatch
By Eileen Spinelli, Paul Yalowitz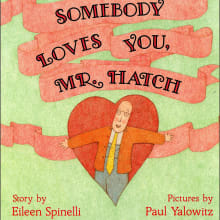 Why this book?
When we were kids, this was one of our all-time favorite books to have read to us each and every evening. While an especially good story to read around Valentine's Day, we loved hearing it all year round. Somebody Loves You, Mr. Hatch is a picture book about a lonely, older man who one day receives an extra-large box of chocolate with the note "Somebody loves you!" attached to it. The gift spurs this quiet, isolated man to open his eyes and heart to the world around him and reach out to others through acts of kindness. The new friends he makes are astounded by the kind and joyful person that he had been hiding inside himself all along.
This book uniquely speaks to the amazing things that can happen when we choose to treat others with kindness: not only can we develop meaningful, fulfilling friendships, but we can also make a meaningful impact in the people and communities that surround us that is much bigger than we could have ever imagined.
It also conveys what it means to be a friend: while enjoying happy moments together, being a good friend also means helping one another when things get hard or sad. Undoubtedly, these important themes found in Somebody Loves You, Mr. Hatch make it one of the best picture books to promote SEL at home or in the classroom and the first book on our list.
---
When you buy a book we may earn a small commission.