The Day the Crayons Quit
By Drew Daywalt, Oliver Jeffers (illustrator),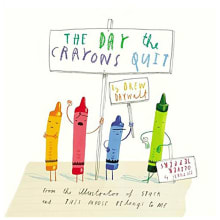 Why this book?
A glorious, mini rebellion of colour and newfound artistic freedom. This deservedly popular picture book is as smart and funny as the youngsters it is aimed at.  Each new character we meet is wonderfully individual and uniquely creative. A rainbow of inspiration! Who knew we could care about crayons so much? Bliss!
---