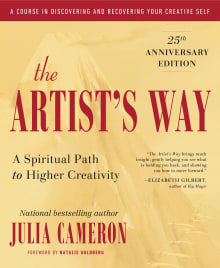 The Artist's Way: A Spiritual Path to Higher Creativity
By Julia Cameron
Why this book?
When I first heard about The Artist's Way, I doubted that this was a book for me. Was I wrong! Over the next year, I met monthly with a visual artist to process each chapter. We discussed prompts, our artist date, or what we wrote from the suggested journaling. The invitations at the end of each chapter led me to work that fed my spirit. Transforming theory into action exercised my creative muscles. The variety of creative engagements encouraged a rich body of work and a new confidence, while the book's quotes introduced me to other thinkers. Artist's-Way work…
From the list:
The best books for creative jump starts – whatever your medium
When you buy a book we may earn a small commission.