Planet Kindergarten
By Sue Ganz-Schmitt, Shane Prigmore (illustrator),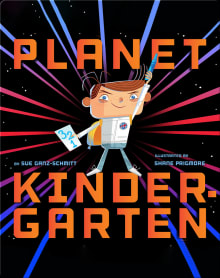 Recommended by Nidhi Kamra
From Nidhi's list on space exploration.
In this brilliant book, the author draws parallels between the first day of kindergarten and a space mission – it turns out the two are not that different, after all. There are gravity issues in kindergarten as well, with kids trying hard to stay in their seats, and hands flying up. There's the equivalent commander in the teacher, mission control in the principal, crewmates, experiments, and a flight plan! Peppered with space lingo, this charming book is double the reading pleasure, with its combined introduction to space and kindergarten. I am all set for kindergarten now. Can't wait! Again, a great read for little humans.
---