I Love the Rain
By Margaret Park Bridges, Christine Davenier (illustrator),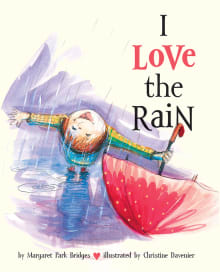 Recommended by Joan Budilovsky
From Joan's list on to help grieving children open up about death.
Rain can be a bummer unless you can find fun ways of transforming it into an experience of wonder and fun. And that's exactly what this book does. Fun, fun, fun! Unless you live in the Sahara Dessert, almost every one of us will encounter a rainy day - if we're lucky!
---