Rain!
By Linda Ashman, Christian Robinson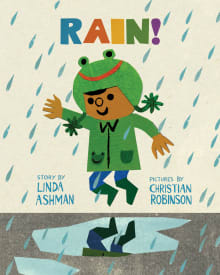 Why this book?
This book shows a grumpy man and a cheerful little kid's morning on rainy day, of course a grumpy old man grumbles about rainy day and a little guy enjoys the rainy day. Same rainy day outing, two totally different attitude! And we all get to know it's the positive attitude make everything brighter and more fun! Christian's simple, colorful illustrations caught my eyes first, the contrast between the grumpy man and a kid's world is just perfect!

---
When you buy a book we may earn a small commission.