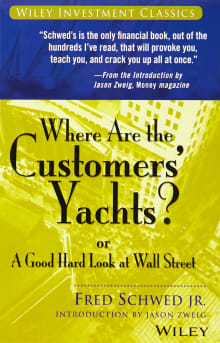 Where Are the Customers' Yachts? Or a Good Hard Look at Wall Street
By Fred Schwed
Why this book?
This book is over 60 years old but so relevant today! The headline involves a brokerage firm customer looking at all the yachts owned by stockbrokers, hence the question in the title. A well-known writer friend of mine put it another way: "The broker made money, his investment firm made money, and two out of three ain't bad." I love this book that zeroes in on the conflict brokers have between their own interests and the interests of their clients.
From the list:
The best books to read if you want to retire with millions in the stock market
When you buy a book we may earn a small commission.